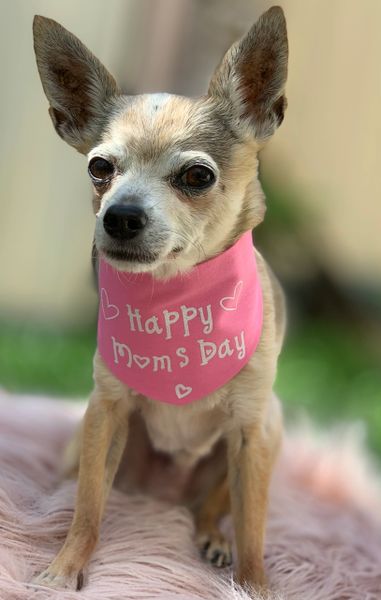 Happy Mom's Day Bandana
Happy Mom's Day Dog Bandanas are available in either Tie-On or Slip-On Style
Your doggie will look so cute and adorable, especially for your fun pics on Instagram, Tiktok and Facebook!
The cute ties on the Tie-On range look adorable, providing those extra smiles!
Each order is individually handmade on the Gold Coast, Australia.
Tie-On Bandanas - Tie Around Your Doggies Neck.
Slip-On Bandanas - Slip On Your Dogs Collar.
Same pink fabric on the both sides
White Glitter Vinyl is used on this Bandana

Fabric is 100% Cotton



See below for sizing 
Special requests welcome!
Sizing by Total Length of Tie-On Bandana
Please check to ensure that the Bandana is long enough to tie-up comfortably around the neck.
X Small - 

57 cm



Small - 

65 cm

Medium - 78

 cm

Large - 

92 cm

X Large - 104 cm
Sizing by Total Length of Slip-On Bandana
Please check to ensure that doggies collar is longer than the length of the Slip-On Bandana you choose.
X Small - 19 cm

Small -  22 cm
Medium - 28 cm
Large - 32 cm
X Large - 38 cm
The Bandanas are proudly handmade so slight variations in sizing may occur.
Home Made Natural Iron Starch is used on the Bandanas.
If you are unsure of what size to order, please send me a message.
Please contact me for any special requests! 
CARE INSTRUCTIONS
Hand Wash/Do Not Iron
If you do need to iron, please place a sheet of baking paper over the bandana to avoid heat damage to the vinyl lettering.